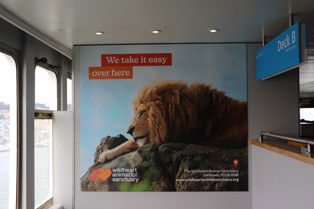 Costs.
£3000+vat for 6 months (£116 per week) Usually runs Apr-Sept
£4500+vat for 12 months (£87 per week) Usually runs Oct-Sept
Discount of 10% for two, 15% if you buy three (1 per boat) or more.
Includes print and install (new advertiser) or one copy change if already in situ.
Additional copy changes during campaign (print and install) cost £400+vat.
Red Funnel will provide you with copy / design guidelines as these follow a particular format.
Payment plans available.