Event Marketing and mid-week Business Boosters on the Isle Of Wight!
For Event Marketing most clients book for our standard event marketing campaign which is 3 days and incudes all 3 banner positions. Most event marketing campaigns start 1 or 2 days before the event and the first day the event is on. So for a weekend event your marketing campaign is out and about island wide (or focused on your chosen route) on the Thursday and Friday preceding and then the first day of the event, the Saturday.
----------
Event Marketing - all 3 banners - £1500+vat for 3 days. Includes Banner printing !
For Mid Week Business Boosters our billboard route is focused on your area meaning your potential customers are already close by - that's a huge advantage compared to other forms of advertising and will encourage impulse visitors. Already very close they just need that little nudge to visit you! With your weekends likely busy anyway our Business Booster campaigns usually run Tuesday, Wednesday and Thursday so also avoid the usual 'changeover days' of visitors reaching them mid-break. You would usually only book one of the 3 banners as we often promote multiple local attractions. Business Booster routes are designed to be highly visible targeting people staying or visiting your specific locality so will spend the three days moving around between (and parked up in) the areas below....
Route 1: Sandown - Shanklin - Ventnor. Route 2: Bembridge - Ryde - Wootton
Route 3: West Wight Towns and Villages. Route 4: Cowes - Gurnard
--------
Business Booster - single banner - £595+vat for 3 days. Includes Banner printing !
Longer bespoke campaigns or static hire by arrangement.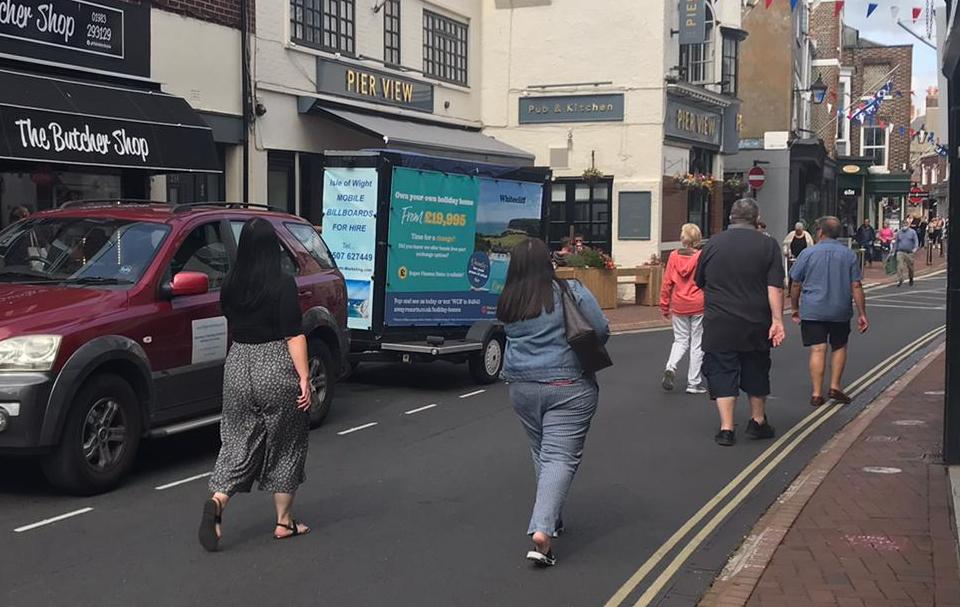 Our mobile Isle of Wight billboards make a lot of sense for brand awareness, events, open days, business boosters and new business launches. You can also hire us for evening promotions (banners can be floodlit), for a specific event marketing campaign or as a static billboard.
Our mobile Isle of Wight billboards are seen in all the busiest locations so we take your advertising to where your customers are.
Click HERE to see where our current clients campaign goes most days!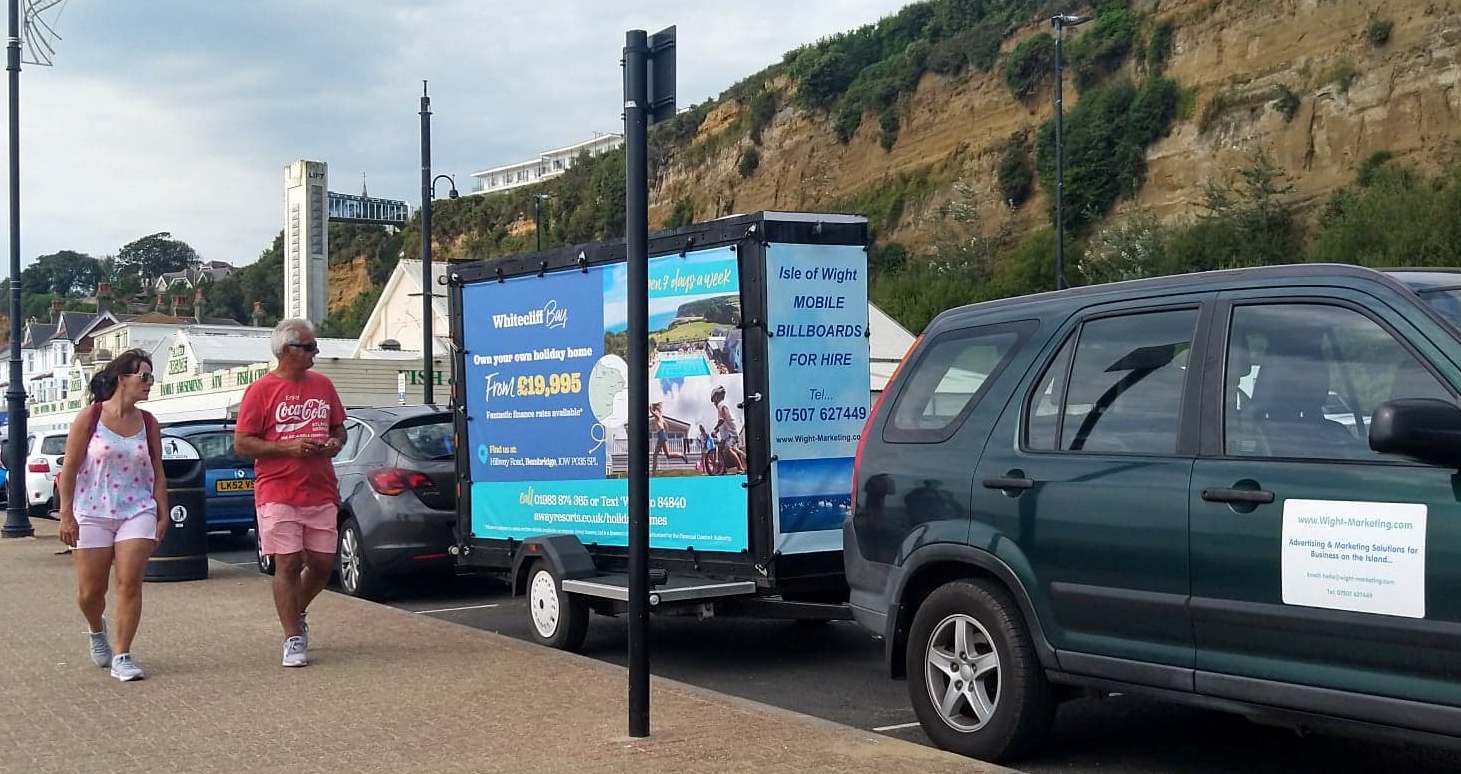 Why Mobile Makes Sense
We decided trailer billboard banners are the most effective for the island as we can really get in amongst where the people are. The larger billboard vans have limitations to where they can go so end up parked most of the day and of course digital animated /movie messaging makes no sense if the vehicle is on the move. Using our mobile billboards on the Isle of Wight also means our rates can be much cheaper than those of mainland operators as we have no ferry or accommodation costs.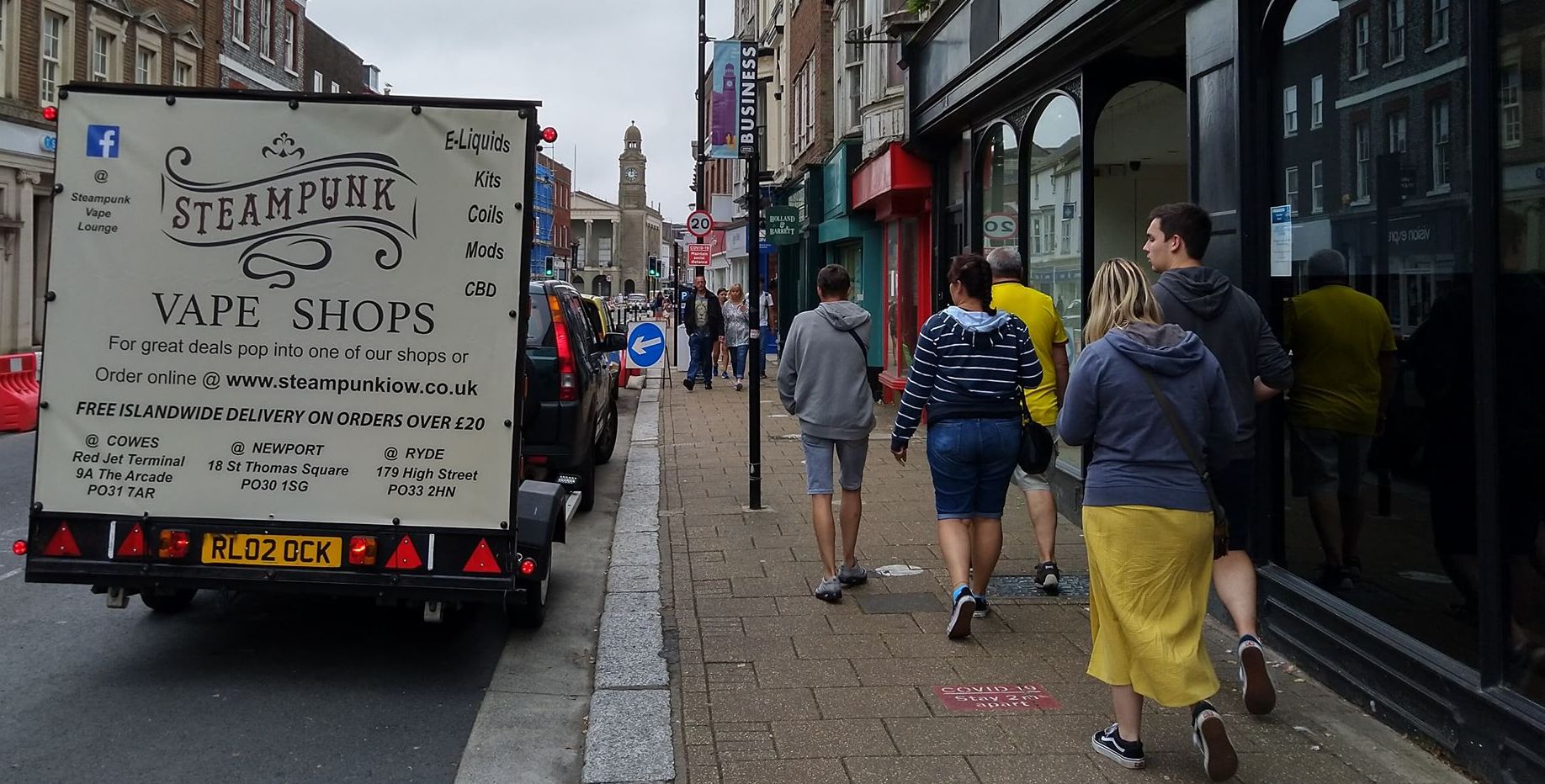 How Does Response Compare?
It's all about the numbers. Most (non ferry) Island magazines have a print run or circulation 10-15k and that's spread over the one or two months the issue is out there. The Island's main weekly newspaper's last ABC certified circulation figure (2018) was circa 20k copies and obviously that's spread over seven days. Our mobile billboard is more prominent than a glanced at page and could be seen by more than that number of people every single day! Most people will not join local Facebook or social media groups when on holiday so our mobile billboards compare well with social media marketing too.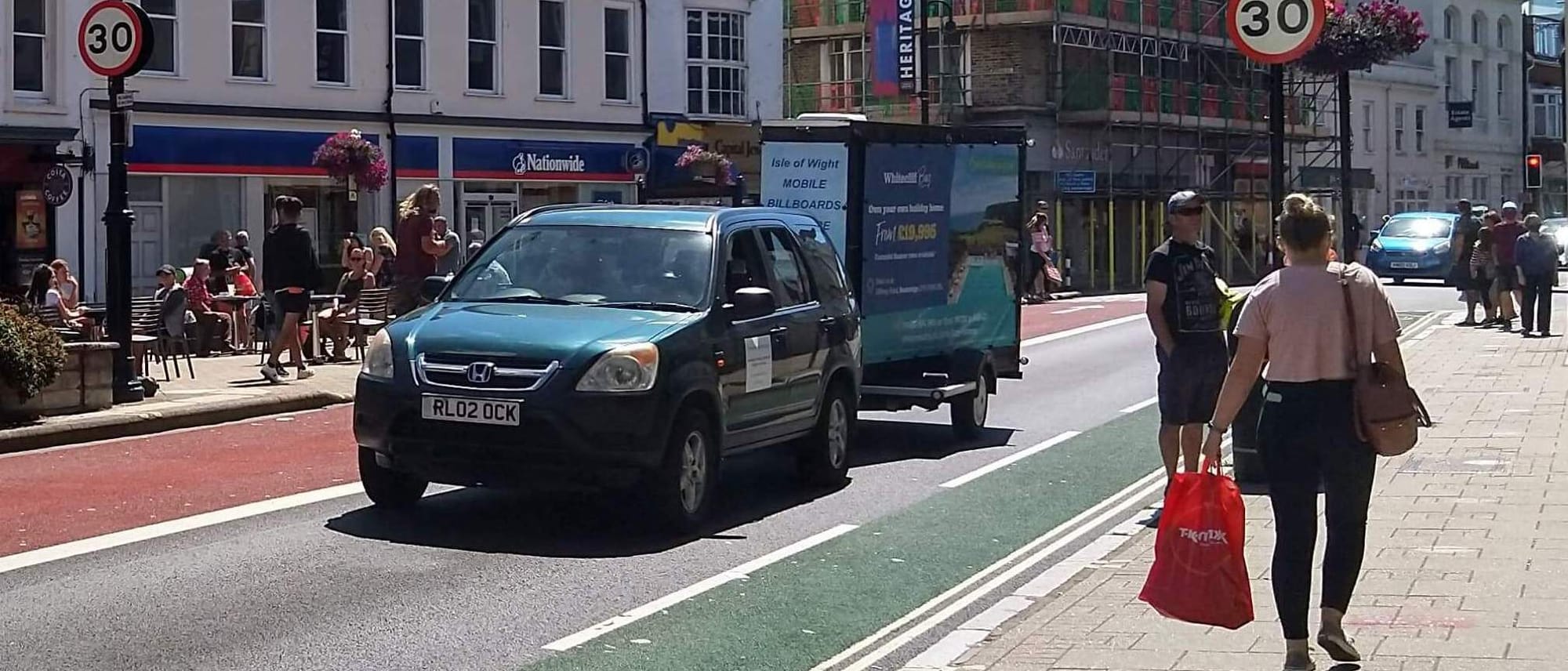 Routes And Timings
We adjust and plan our routes depending on the advertisers target market but our standard daily route includes all the busiest towns and several park-ups at busy, high visibility locations. During the summer months all major tourist areas can be visited more often with park-ups on the Esplanades and near the holiday parks. For retail advertisers we focus more on areas with higher numbers of residents out and about. On our standard daytime route your adverts are on the road for a minimum 6 hours usually sometime between the hours of 8.00 am and 5.00 pm with the earlier starts during the winter. We can discuss and adjust daily targeted routes with you. Our Business Booster routes focus just on your area, our Event Marketing routes focus on areas with the highest footfall.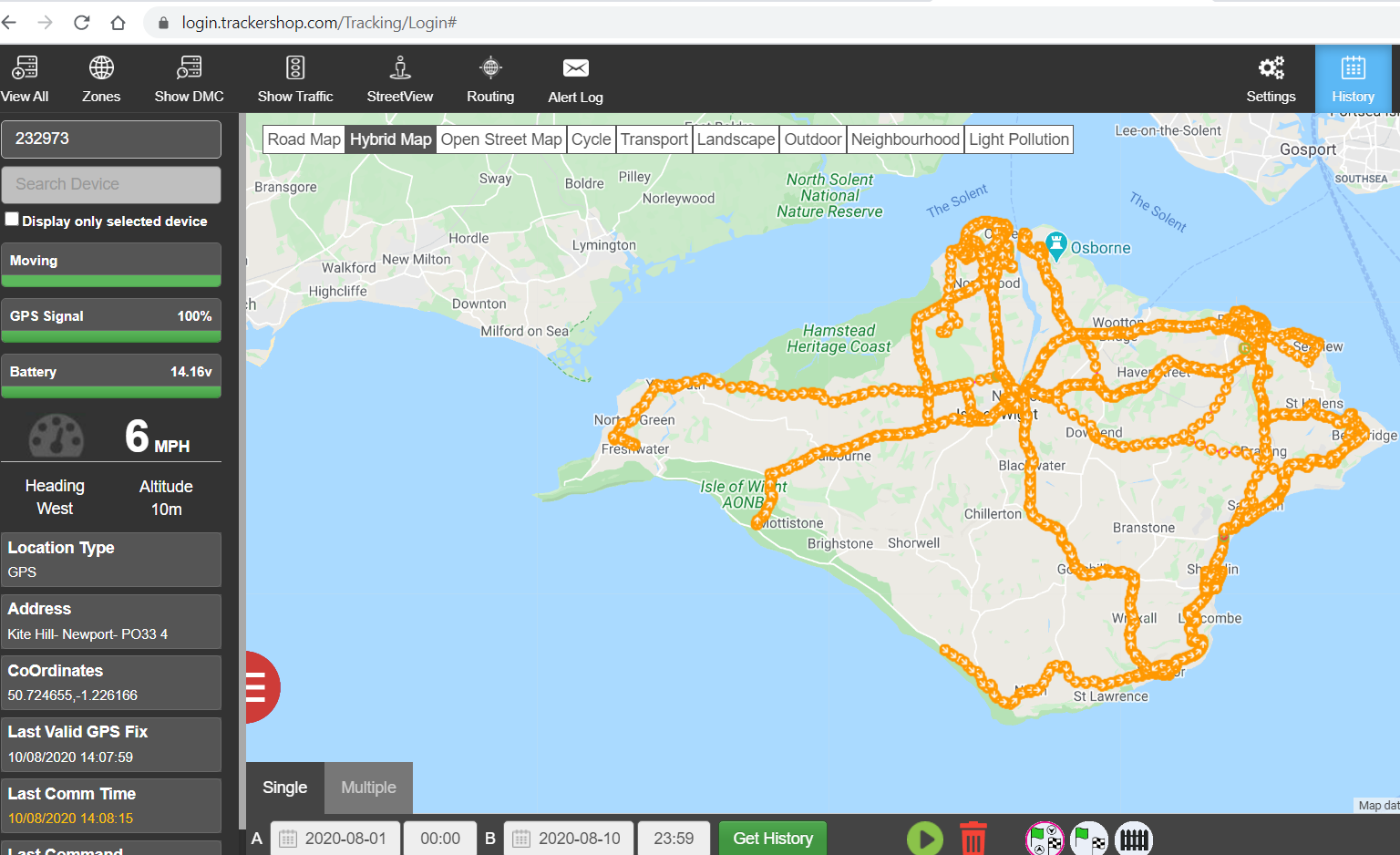 What's Included?
Our mobile Isle of Wight billboards have three banner positions - our most popular trailer option has one at the back (6ft x 5ft) and one each side (8ft x 5ft) and these can be rented together or separately depending on your budget. Prices include route planning, driver, insurance, banner installation, daily banner cleaning and storage. On day 1 of your campaign you will receive a GPS log in and map (see above) of where your advert was seen which you can then use to monitor real-time location for the rest of the campaign. During the campaign you can see images of your advert in park-up locations.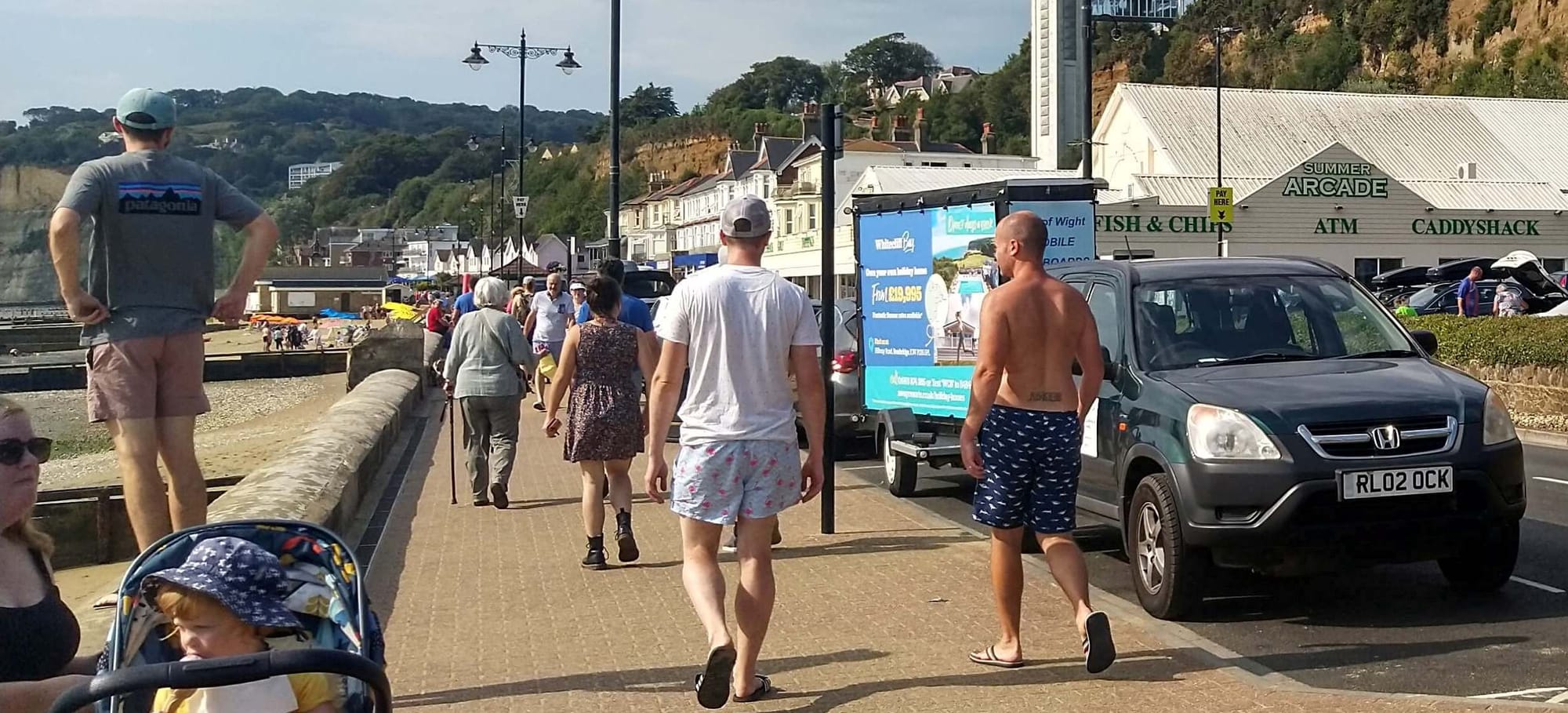 Banner Production and Payment
If you use a friendly printer you can supply the banners to our spec, if wish us to print your banner(s) cost is £125 per banner and this is included in both our campaign packages.
(Think carefully about banner design, can you re use it for other things?)
Bookings: suggest as early as possible to guarantee availability especially for event marketing and high season.
Payment and copy due 7 days before start date.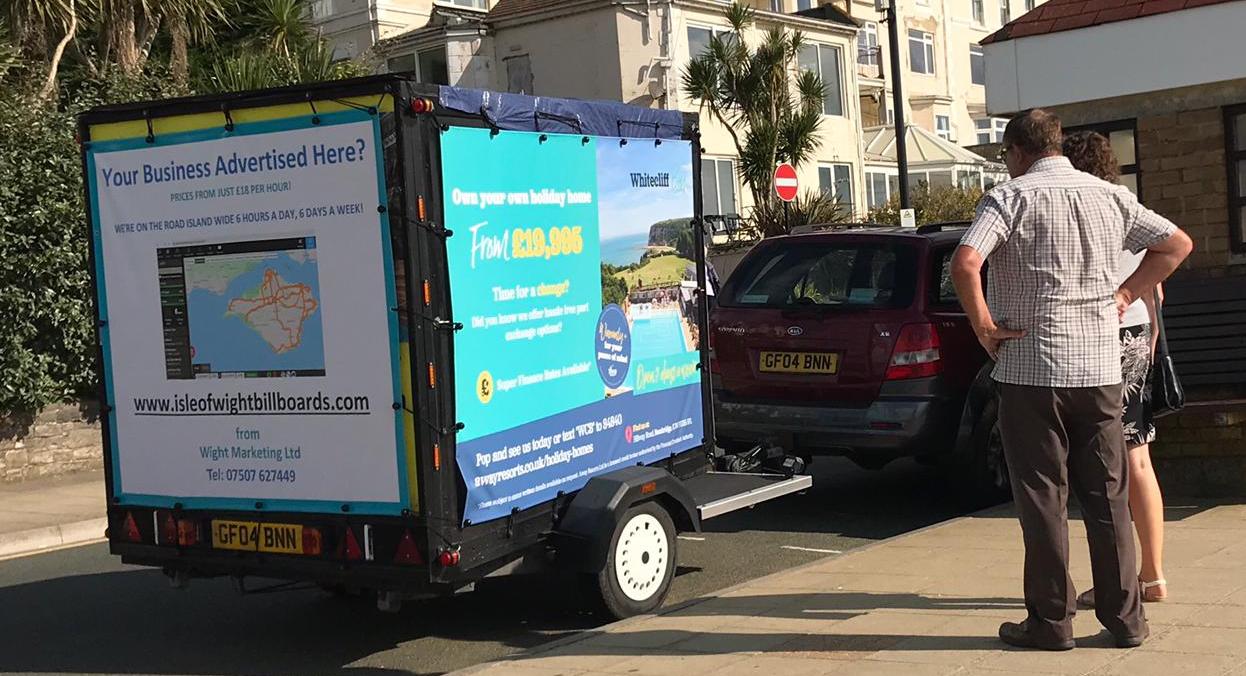 Contact Us Now - 07507 627449